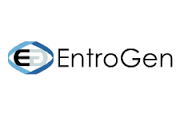 MEDIVEN partner with EntroGen to deliver a range of oncology RT PCR assays in Malaysia to guide and monitor targeted therapies for various malignancies. EntroGen is a Los Angeles-based biotechnology company with a primary focus on molecular diagnostics in the areas of hematology and oncology.
List of Products
1. AKT1 E17K Mutation Analysis Kit*
2. EML4-ALK Fusion Gene Detection Kit*
3. BCR-ABL P190 (mbcr) One-Step Detection Kit*
4. BCR-ABL P210 (Mbcr) One-Step Detection Kit*
5. BRAF Mutation Analysis Kit II*
6. ctDNA BRAF V600 Mutation Detection Kit*
7. ctDNA EGFR Mutation Detection Kit*
8. EGFR Mutation Analysis Kit*
9. EGFR Mutation Analysis Extension Kit*
10. DPYD Genotyping Kit*
11. GIST Mutation Screening Panel*
12. KRAS Mutation Analysis Kit*
13. KRAS/BRAF Mutation Analysis Kit*
14. AML1-ETO One-Step Detection Kit*
15. E2A-PBX1 One-Step Detection Kit*
16. MLL-AF4 One-Step Detection Kit*
17. TEL-AML1 One-Step Detection Kit*
18. CBFb-MYH11 One-Step Detection Kit*
19. NRAS Mutation Analysis Kit*
20. PIK3CA Mutation Detection Kit*
21. RAS Mutation Screening Panel*
22. RAS c.59/117 Mutation Detection Kit*
23. UGT1A1 Genotyping Kit*
24. BRCA complete for NGS*
25. DNA Fragmentation Quantification Assay*
26. Library Quantification Kit for Illumina*
27. c-Kit Mutation Detection Kit*
28. Colorectal Cancer Mutation Detection Panel*
29. Internal Quality Control Assay*
30. Thyroid Cancer Mutation Detection Kit*
31. Thyroid Cancer Fusion Gene Detection Kit*
32. Leukemia Translocation Panel
33. Color Compensation Kit for FAM/VIC/ROX/CY5
* Products are CE-IVD certified.
Have questions?
Call us now at: +604-6562824
Or
Please submit the form below[contact-form-7 404 "Not Found"]