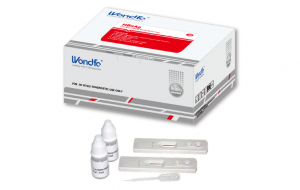 Wondfo POCT Qualitative Rapid Tests are rapid immunochromatographic tests for the visual screening of infectious diseases in human samples.
Wondfo POCT Qualitative Rapid Test is easy to use, read result and carry. The kits have high sensitivity and specificity and is safe and reliable.
List of Products
Fertility
– Sperm Concentration Test
– LH Test
– FSH Test
STD
– HIV 1/2 Test
– HBV Test
– HCV Test
– Syphilis Test
– Chlamydia Test
– Gonorrhea Test
Infectious Disease
– Malaria HRP2/pLDH(P.f/Pan) Test
– Malaria HRP2/pLDH(P.f/P.v) Test
– H.Pylori Antibody Test
– H.Pylori Antigen Test
– MP (Mycoplasma Pneumonia) Test
– Strep A
Drug of Abuse Strips 
– MOR
– THC
– 5 in 1 Panel MOR/THC/MET/AMP/BZO
* Products are CE-IVD certified.
Have questions?
Call us now at: +604-6562824
Or
Please submit the form below
Wondfo POCT Qualitative Rapid Test