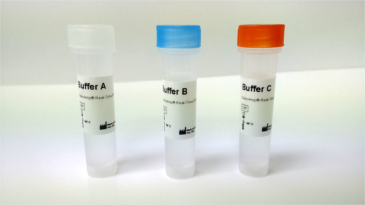 GenoAmp® Real-Time RT-PCR Zika kit is a real-time molecular diagnostic test for screening of the Zika virus from viral RNA extracted clinical specimens.
Product Code:

GRA2020-2

GRA2020-2H (96-well plate, high profile)
GRA2020-2L (96-well plate, low profile)
GRA2020- 96SL (12×8 strips, low profile)
GRA2020- 48SL (6×8 well strips, low profile)

Detection:
Zika virus
Specimen:

Serum
Blood
Saliva
Cerebrospinal fluid (CSF)
Amniotic fluid
Urine
Semen
Tissues

Kit Content:

Positive Control
Negative Control
Rehydration Buffer
RNAse/DNAse free water

Compatible Instrument:

ABI PRISM 7000/7700
7500 Fas/Dx
Rotor-Gene®Q
Bio-Rad (CFX96/ Mini OpticonTM)
Roche (LightCycler®480/96)
SmartCycler®
Stratagene (Mx3000P™/ Mx3005P™)

Test per kit:
100
Fast:
3 hours from sample to result.
Flexible: Includes internal control (IC) for monitoring of potential PCR inhibitions.
Convenient: Easy reaction setup and result analysis.
Highly Informative: Early detection of Zika virus infection.
Have questions?  Ready to order?
Call us now at: +604-3052730
Or
Please submit the form below
[contact-form-7 404 "Not Found"]
GenoAmp® Real-Time RT-PCR Zika