Wondfo 2019-nCoV Antigen Test (Lateral Flow Method) is a rapid test that is used for laymen of detecting novel coronavirus (2019-nCoV) Nucleocapsid (N) protein antigen extracted from the nasal swab specimen. It is intended as an aid in the diagnosis of coronavirus infection disease (COVID-19) for symptomatic patients within 7 days after onset of symptoms, which is caused by 2019-nCoV. For in vitro diagnostic use only. For self-testing use.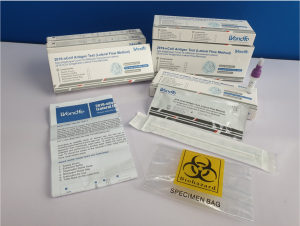 More Info/Pre Order Download Flyer
Product Code:

W634P0024

Detection:

2019-nCoV nucleocapsid protein antigen

Specimen:

Nasal swab

Kit Content:

1 Sealed pouch
1 Extraction buffer
1 Disposable Sterile Swab
1 Biohazard Waste Bag
Instruction for use

Test per kit:
1 Only
Fast: 
Give instant and reliable result after 15 mins.
Flexible: Qualitative detection of COVID-19.
 Convenient: Simple nasal swab sampling. Easy to use.
Have questions?  Ready to order?
Call us now at +604-3052730
Or
Please submit the form below
WONDFO 2019-nCoV Antigen Test (Lateral Flow Method)