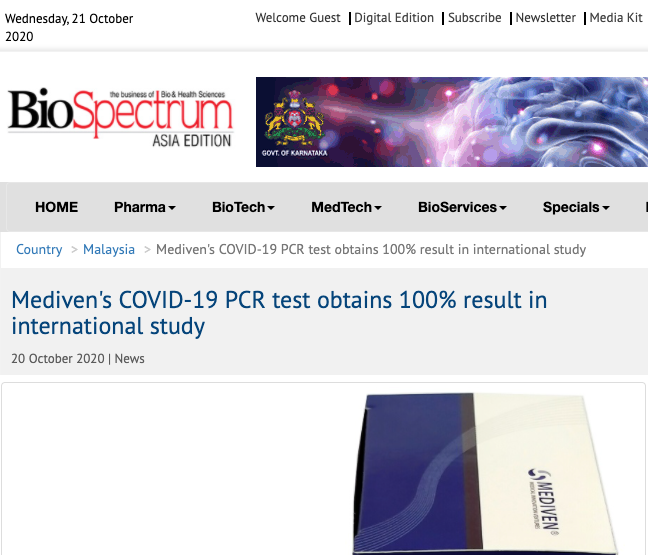 Credits: BioSpectrum, 21 October 2020
Malaysia's Medical Innovation Ventures (Mediven®) achieved 100% concordance for GenoAmp®, its COVID-19 PCR test kit in an international third party evaluation study External Quality Assessment (EQA) / Proficiency Testing (PT) from the UK.
The study is participated by many international brands from South Korea, Spain, France, China, Germany, the USA, Turkey, Australia, and the UK. The program was participated by 476 respondents from 19 countries with at least 51 brands. Only a handful of these brands had a 100% concordance result.
WHO and international communities have recognized the Real-time PCR test as the gold standard for COVID-19 screening. Mediven's GenoAmp® Real-Time RT-PCR SARS-CoV-2 kit is accurate and reliable, yet affordable for COVID-19 testing. The kit is designed based on three genes recommended by the WHO to increase sensitivity and thus detects virus infection even at low concentrations.
Dr Lim Li Sze, the Operations Director of Mediven® says, "At high concentration of the virus in swab samples, most tests can work. Our test makes a difference by picking out the false negatives, helping to identify patients early on, therefore preventing further spread of the disease."
EQA/PT is organized by Quality Control for Molecular Diagnostics (QCMD) in the first half of 2020. Mediven®'s kit, GenoAmp® Real-Time RT-PCR SARS-CoV-2 is one of the 476 participants in the QCMD 2020 Coronavirus Outbreak Preparedness EQA Pilot Study. This study aim is to assess the proficiency of laboratories molecular technologies/kit manufacturers for the detection and determination of SARS-CoV-2 from other coronaviruses at varying concentrations of virus.
Each participant needs to report the result (positive/negative) of the panel obtained using their own assay to QCMD. The report is being scored based on Detection Score value from 0 (zero) to 3 (three), where 0 is "highly satisfactory" whereas 3 is "highly unsatisfactory". Further, the "Highly satisfactory" result suggests concordant results with the real status of the QCMD panel. Mediven®'s GenoAmp® Real-Time RT-PCR SARS-CoV-2 has obtained a Detection Score of Highly Satisfactory "0" for all panels tested.
Additionally, GenoAmp® Real-Time RT-PCR Flu A/ Flu B/ SARS-CoV-2/ MERS-CoV kit screens influenza and influenza-like illnesses.
Mediven® is a company supported by the Malaysian Government, namely Malaysian Bioeconomy Development Corporation (Bioeconomy Corporation), Cradle Funds, MIDA, MTDC, SMECorp, and MOSTI. Mediven® is a developer and manufacturer of molecular and rapid tests with ISO13485 certified facilities based in Malaysia. The company was awarded the BioNexus status by Bioeconomy Corporation in January 2015 for its technological innovations in the field of IVD. The company is also a company under the Malaysian Technology Development Corporation (MTDC) ecosystem.