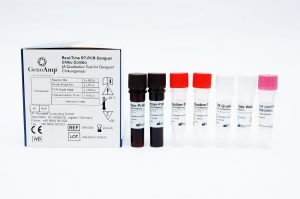 GenoAmp® Real-Time RT-PCR Dengue/Chiku Combo kit is a real-time molecular diagnostic test for the screening and differentiation of dengue virus serotypes (DEN-1, DEN-2, DEN-3 and DEN-4) as well as chikungunya virus extracted from human plasma/serum.
Product Code:
GRA2008
Detection:

DEN-1
DEN-2
DEN-3
DEN-4
Chikungunya

Specimen:
Kit Content:

Reaction Mix
Primer-Probe Mix
PCR Grade Water
Positive Control

Compatible Instrument:
Test per kit:
100
Fast:
2.5 hours from sample to result.
Flexible: Multiplex and available in different combinations.
 Convenient: Easy reaction setup and result analysis.
 Highly Informative: 
Sensitive detection of various diseases with viral fever symptoms.
Can differentiate dengue serotypes and chikungunya virus infection in a single reaction.
Have questions?  Ready to order?
Call us now at: +604-3052730
Or
Please submit the form below
GenoAmp® Real-Time RT-PCR Dengue/Chiku Combo