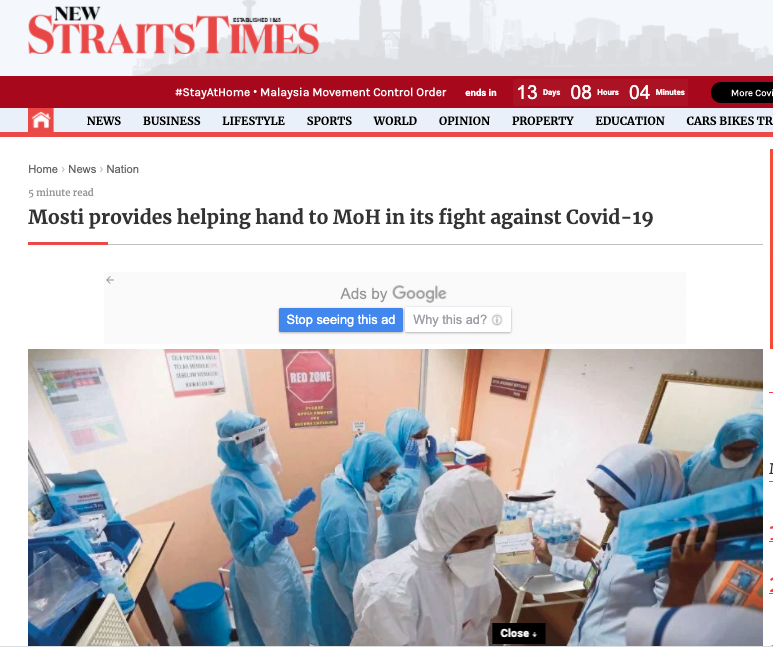 Credits: New Straits Times – March 25, 2020 — PUTRAJAYA: The Science, Technology, and Innovation Ministry (Mosti) has taken several initiatives to assist the Health Ministry (MoH) in its quest to contain the COVID-19 outbreak.
Minister Khairy Jamaluddin said to support MoH's target of conducting 16,000 COVID-19 tests daily from April, Mosti has taken the initiative to form a COVID-19 Special Screening Team with the cooperation of the Higher Education Ministry (KPT).
Health director-general Datuk Noor Hisham Abdullah on Tuesday had announced that they were ramping up measures and efforts to conduct 16,000 tests for the coronavirus daily.
Khairy said a meeting involving Mosti and KPT on March 20 saw both ministries agreeing to set up the special Mosti-KPT screening team to perform COVID-19 tests.
The minister said the tests would be conducted at 10 diagnostic laboratories at research institutes under Mosti, including a mobile lab as well as institutes of higher learning and hospitals.
He said MoH through the Institute for Medical Research (IMR) would also help train COVID-19 screening laboratory staff/personnel with the necessary protocol standards.
"This means a total of 42,420 screenings will be carried out by research institutes and institutions of higher learning within a 30 day period to help ease the burden on MoH," he said.
Khairy said the initiative was also the outcome of his discussions with Health Minister Datuk Seri Dr. Adham Baba as well as Communication and Multimedia Minister Datuk Saifuddin Abdullah via MoH-MOSTI Strategic Cooperation Meeting which was chaired jointly by the three of them on March 23 at the Health Ministry to control the spread of COVID-19.
Khairy said that in line with the extension of the Movement Control Order until April 14 Mosti was implementing several initiatives to curb the spread of the outbreak.
One of them was to speed up the COVID-19 diagnostic test kit evaluation process which was developed by the Medical Innovation Ventures Company Sdn. Bhd. (Mediven) and funded by the Malaysia Technology Development Corporation (MTDC).
Khairy said Mosti was also developing a COVID-19 transmission area mapping application which would help authorities to conduct detailed monitoring as well as provide warning and a reminder to people to stay away from affected areas.
"All ministries and government agencies are doing everything they can to fight the outbreak," he said.